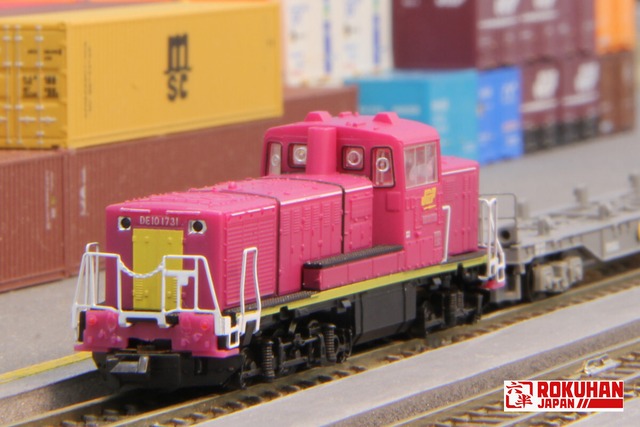 G009-1 DE10 JR貨物入替動車色 スターターセット (DE10 JRF Shunting Locomotive Uncouple STARTER SET)
¥27,280 tax included
the last one
【セット内容】
DE10 1731号機 ×1両 / コキ106×2両 / DE10 ランナーパーツ×1枚 / 列車無線アンテナ取付治具×1個 / コキ106 後部標識×2枚 / アンカプラー専用アーノルドカプラー×6個 / RC02 トレインコントローラー(フィーダーケーブル付)×1個 /
コントローラードレスアップシール×1枚 / ポイント切替スイッチ×1個 / リレーラー×1個 / 曲線レールR120-45°×8本 / 直線レール220mm×4本 / 直線レール55mm×1本 / 電動アンカプラーレール×1本

【サイズ】
PKGサイズ、寸法 (高さ×奥行×横幅)28×8×49(cm)
本体サイズ、寸法 (高さ×奥行×横幅)6×31×75(cm)※セットを組み立てた時の寸法です。
素材 ABS、POM、PVC、洋白、ステンレス、亜鉛合金、黄銅、他

【特徴】
ロクハンZゲージの特徴
眺めて、集めて、そして走りも楽しむことのできる極小スケールの鉄道模型、それがロクハンZゲージです。
1/220サイズならではの精密さや、小ささを活かしA4サイズでもレイアウトを楽しめるのがZゲージ最大の特徴です。
車両はもちろん、レール、ストラクチャー,アクセサリー等も豊富にラインアップ!!

【商品の特徴や使い方等】
極小サイズの鉄道模型、Zゲージを始める為に必要なアイテムが全て封入された、
大変お得なセットです。機関車はJR貨物の入換専用の色で、北海道や西日本
エリアの貨物駅で活躍していたJR貨物入換動車色のDE10 1731号機。
焼き芋とも呼ばれた人気のカラーリングを再現しています。
アンカプラーレールを使用しコキ106からDE10を切り離し、オーバルレールを
走行、反対側から連結する等、手元のコントローラー・ポイント切り替え
スイッチを使用してこれまでと異なる遊び方を楽しむことができるセット
です。
単4電池8本またはACアダプターは別売りです。

※注意事項
対象年齢15歳以上

JR貨物承認済

------------------------------------
【Set Contents】
DE10 1731 Shunting Locomotive Color x 1 car / Koki 106 x 2 cars / DE10 Runner parts ×1 / Runner parts Installation jig ×1 / Koki 106 rear sign x 2 / Arnold coupler for uncoupler x 6 / RC02 train controller with feeder cable x 1 / Controller dress-up sticker x 1 / Point Turnout Switch x 1 / Rerailer ×1 / Curved Track R120-45 ° x 8 / Straight Track L220 x 4 / Straight Track L55 x 1 / Electric Uncoupler Track × 1
Instruction manual x 1

【Size】
PKG size: Dimension (H x D x W)28×8×49 (cm)
Body size: Dimension (H x D x W)6×31×75 (cm)
Materials: ABS, POM, zinc alloy, brass, etc.

【Features】
The Rokuhan Z Gauge is a small-scale model railroad that you can view, collect, and enjoy running.
The most significant feature of the Z gauge is that you can enjoy the layout even in A4 size by taking advantage of the precision and small size unique to 1/220.
We have a rich lineup of tracks, structures, accessories, and cars(trains) !!

【Product features and usage, etc.】
All necessary items to start the Z gauge are enclosed in a miniature model railroad.
It is an excellent set.The locomotive is Unit 1731, known as the last "baked sweet potato" painted DE10 Shunting Locomotive Color.
KOKI 106, electric uncoupler track, optional containers, and turnout track can be used to re-create the shunting operation.
Please use the controller with batteries inserted. The AC adapter is sold separately.

※Precautions
Target age 15 years and over.

JR Freight commercialization licensed.
Add to Like via app
Shipping method / fee

Payment method