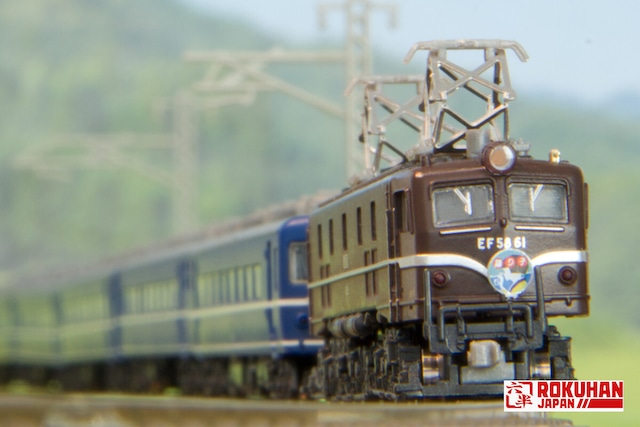 T039-1 EF58形電気機関車 61号機 お召し仕様(EF58 Electric Locomotive Number 61 Imperial Train)
【セット内容】
EF58形電気機関車 61号機×1両 / ダミーカプラー×2個 / 避雷器(ランナーパーツ)×1枚/ ホイッスル(ランナーパーツ)×1枚 / 無線アンテナ(ランナーパーツ)×1枚 / ヘッドマーク(ランナーパーツ)×1枚 / 日章旗パーツ×1個 / 国旗ラベル×1枚 / 取扱説明書×1枚

【サイズ】
PKGサイズ、寸法 (高さ×奥行×横幅)5×2.5×18(cm)
本体サイズ、寸法 (高さ×奥行×横幅)1.9 x 8.0 x 1.3(cm)
素材 ABS、POM、亜鉛合金、黄銅、他

【特徴】
ロクハンZゲージの特徴
眺めて、集めて、そして走りも楽しむことのできる極小スケールの鉄道模型、それがロクハンZゲージです。
1/220サイズならではの精密さや、小ささを活かしA4サイズでもレイアウトを楽しめるのがZゲージ最大の特徴です。
車両はもちろん、レール、ストラクチャー,アクセサリー等も豊富にラインアップ!!

【商品の特徴や使い方等】
EF58形電気機関車61号機は、昭和28年、お召し列車牽引専用機関車として日立製作所にて製造され、「ロイヤルエンジン」と呼ばれた車両です。
他のEF58形とは異なる、正面から側面にかけて取り付けられた飾り帯や国旗掲揚装置が特徴です。
1953(昭和28)年~2001(平成13年)までの間に90回以上お召し列車を牽引しました。
電気部品の劣化を防ぐという観点から、昭和40年代後半ごろまでは定期仕業でも使用され、東日本旅客鉄道(JR東日本)に継承された後も様々なイベント列車等で活躍しました。
鉄道開業150周年という記念すべき年である今年2022(令和4)年10月30日より、埼玉県大宮市の鉄道博物館にて常設展示が開始され、より気軽にその姿を見ることが出来るようになりました。

●モデルはJR東日本継承後の姿。
●61号機のみに施工された独特の「ため色」を再現。
●正面から側面にかけて取り付けられた飾り帯など、特徴的な形状を再現。
●同梱のダミーカプラーと交換可能。
●国旗を取り付けるポールはエッチング製。国旗は同梱のラベルから選択式。
●「踊り子」ヘッドマークも同梱。
●その他ユーザー取付パーツとし避雷器、ホイッスル、無線アンテナを同梱。
●別売りの「1号編成」や「14系客車」等と組み合わせてお楽しみください。
●最小走行半径はR195。
●ヘッドライト点灯。

※注意事項
対象年齢15歳以上

JR東日本商品化許諾済

------------------------------------
【Set Contents】
EF58 ×1pc / Dummy coupler ×2pcs / Runner parts A (Lightning rod A…3pcs , Lightning rod B…3pcs) ×1 / Runner parts B (Radio antenna…3pcs) ×1pc / Runner parts C (Horn A…3pcs, Horn B…3pcs) ×1pc / Flagpole ×1pc / Flag label sheet ×1pc Headmark(Limited express Odoriko, Used for towing Series 14 coaches) ×2pcs / Instruction manual ×1pc

【Size】
PKG size: Dimension (H x D x W) 5 x 2.5 x 18 (cm)
Body size: Dimension (H x D x W) 1.9 x 8.0 x 1.3 (cm)
Materials: ABS, POM, Zinc alloy, Brass, and others

【Features】
The Rokuhan Z Gauge is a small-scale model railroad that you can look at, collect, and enjoy running.
The most significant feature of the Z-gauge is that you can enjoy the precision of the 1/220 size and the small size of the layout, even in A4 size.
We have a rich lineup of tracks, structures, accessories, and cars(trains) !!

【Product features and usage, etc.】
The EF58 electric locomotive No. 61 was built to pull Imperial trains.
With its maroon body color and decorations that differ from those of other locomotives of the same type in terms of materials and other special features, this locomotive frequently pulled special trains and Imperial trains.
It will be on permanent display at the Railway Museum in Omiya, Saitama Prefecture, from October 30, 2022.
Usually, when members of the Imperial Family board an Imperial train, the Japanese flag is flown on both sides of the front of the locomotive, but when foreign royalty board the train, the Japanese flag is flown on the right side of the locomotive when viewed from the front. The national flag of the country concerned is flown on the left side.
The minimum running radius is R195.

●The model is the appearance after JR East took over.
●The unique "Tame-iro (Imperial maroon)," which was applied only to the No. 61 train, is reproduced.
●The model reproduces the characteristic shape of the train, such as the decorative belt installed from front to side.
●The dummy couplers included in the kit are interchangeable.
●Flag pole is made by etching. The flag is selectable from the included labels.
●Head mark of "Odoriko" is also included.
●Other user-installable parts include a lightning arrester, whistle, and radio antenna.
●Combine with "No.1 Formation", "Series 14 Passenger Car", etc. (sold separately) and enjoy.
●Minimum running radius is R195.
●Headlights are illuminated.

【Precautions】
Target age: 15 years and older.

JR East commercialization licensed.
Add to Like via app
Shipping method / fee

Payment method