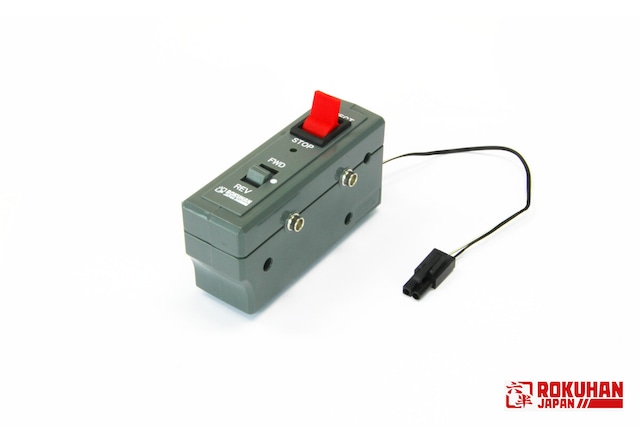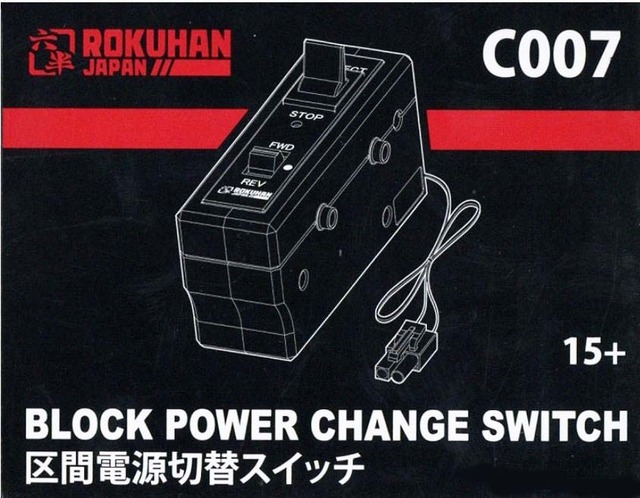 C007 区間電源切替スイッチ (BLOCK POWER CHANGE SWITCH)
¥3,080 tax included
the last one
【セット内容】
区間電源切替スイッチ×1個、シール×1枚

【サイズ】
PKGサイズ、寸法 (高さ×奥行×横幅)11×4×10(cm)
本体サイズ、寸法 (高さ×奥行×横幅)6×9.5×3(cm)
素材 ABS、PCB基板

【特徴】
ロクハンZゲージの特徴
眺めて、集めて、そして走りも楽しむことのできる極小スケールの鉄道模型、それがロクハンZゲージです。
1/220サイズならではの精密さや、小ささを活かしA4サイズでもレイアウトを楽しめるのがZゲージ最大の特徴です。
車両はもちろん、レール、ストラクチャー,アクセサリー等も豊富にラインアップ!!

【商品の特徴や使い方等】
同一線路上の2区間で、絶縁して区切った区間の電源を切り替えるスイッチです。
複数台スイッチを使用し、車両基地や機関区のような遊び方もできます。
電源供給はRC-02またはRC-03 トレインコントローラー(それぞれ別売)から行います。

※注意事項
対象年齢15歳以上

------------------------------------
【Set Contents】
Block Power Change Switch x 1、label x 1

【Size】
PKG size: Dimension (height x depth x width) 11 x 4 x 10 (cm)
Body size: Dimension (height x depth x width) 6 x 9.5 x 3 (cm)
Materials: ABS, PCB board

【Features】
The Rokuhan Z Gauge is a small-scale model railroad that you can view, collect, and enjoy running.
The most significant feature of the Z gauge is that you can enjoy the layout even in A4 size by taking advantage of the precision and small size unique to 1/220.
We have a rich lineup of tracks, structures, accessories, and cars(trains) !!

【Product features and usage, etc.】
It is a switch that switches the power supply between two sections on the same track that are separated by insulation.
Using multiple switches, you can play as if you were in a railroad depot or engine yard.
Power is supplied from the RC-02 or RC-03 Train Controller (sold separately).

※Precautions
Target age 15 years and over.
Add to Like via app
Shipping method / fee

Payment method