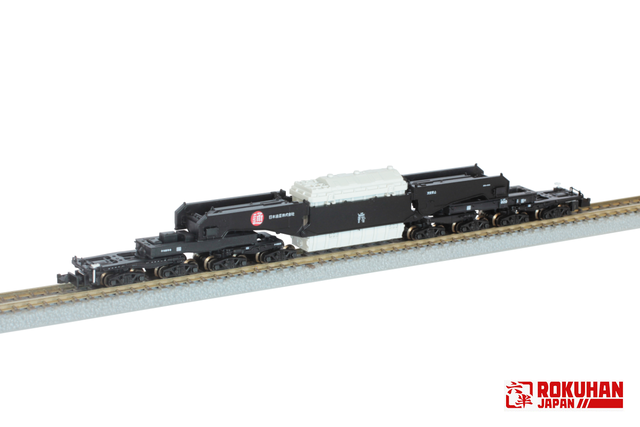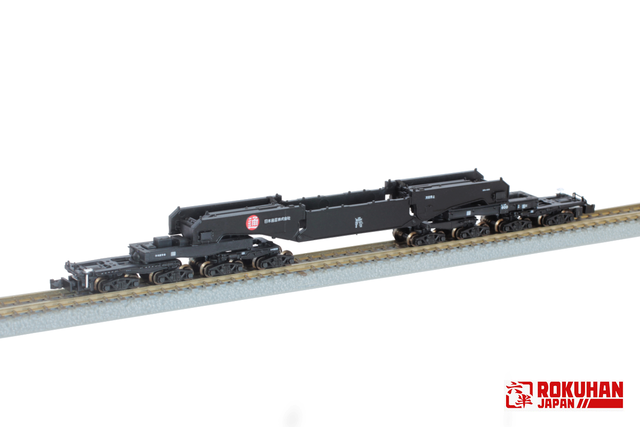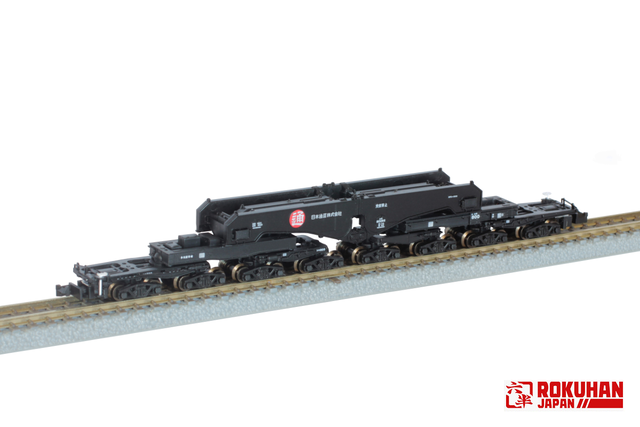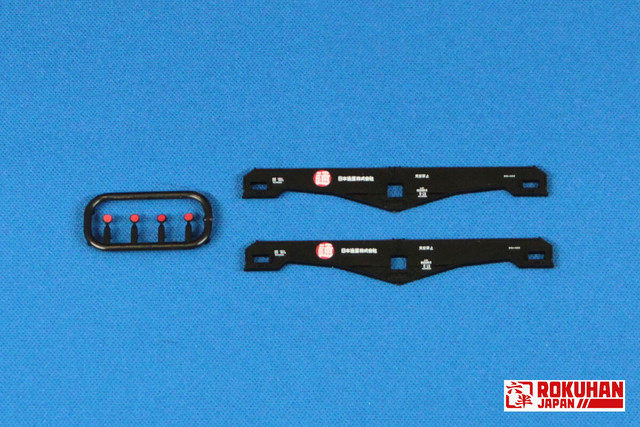 T037-1 シキ800形 大物車 B2梁 変圧器輸送 (Shiki 800 type big car B2 beam transformer transportation)
¥ 17,380 tax included
the last one
【セット内容】
シキ800形 大物車×1両,B2梁(空車時用)×1,後部標識ランナーパーツ×1
【サイズ】
PKGサイズ、寸法 (高さ×奥行×横幅)25.5×2.8×18(cm)
本体サイズ、寸法 (高さ×奥行×横幅)1.8×15.8×1.2(cm)
素材 ABS、POM、亜鉛合金、黄銅、他

【特徴】
ロクハンZゲージの特徴
眺めて、集めて、そして走りも楽しむことのできる極小スケールの鉄道模型、それがロクハンZゲージです。
1/220サイズならではの精密さや、小ささを活かしA4サイズでもレイアウトを楽しめるのがZゲージ最大の特徴です。
車両はもちろん、レール、ストラクチャー,アクセサリー等も豊富にラインアップ!!

【商品の特徴や使い方等】
日本通運所有の私有貨車です。
通常の貨物輸送とは桁違いの重量物である変圧器を2軸ボギー台車8台、
計16軸の車輪が目的地まで運びました。
ロクハンで製品化されている車両ではEF65やEF210、DD51、DE10などが牽引しました。
また、係員添乗用としてヨ8000がよく連結されました。
なお実車は2019年11月に行われた変圧器輸送をもって運用を終了し、2020年3月に解体されました。
製品は「B2梁」を使用している姿を再現し、「B2梁のみ(回送状態)」、「B2梁+C梁(空車回送状態)」、
「B2梁+C梁+変圧器(積車状態)」という3パターンの運用を再現可能です。

※注意事項
対象年齢15歳以上

日本通運株式会社商品化許諾済
協力:株式会社東光高岳

【set content】
Shiki 800 type big car x 1 car, B2 beam (for empty car) x 1, rear sign runner parts x 1
【size】
PKG size, dimensions (height x depth x width) 25.5 x 2.8 x 18 (cm)
Body size, dimensions (height x depth x width) 1.8 x 15.8 x 1.2 (cm)
Material ABS, POM, zinc alloy, brass, etc.

【Features】
Features of Rokuhan Z gauge
The Rokuhan Z Gauge is a very small scale model railroad that you can view, collect, and enjoy running.
The biggest feature of Z gauge is that you can enjoy the layout even in A4 size by taking advantage of the precision and small size unique to 1/220 size.
We have a rich lineup of rails, structures, accessories, etc. as well as vehicles !!

[Product features and usage, etc.]
It is a privately owned car owned by Nippon Express.
Eight 2-axle bogie bogies with transformers, which are orders of magnitude heavier than normal freight transportation
A total of 16 axles of wheels carried to the destination.
EF65, EF210, DD51, DE10, etc. were the driving force in the vehicles commercialized by Rokuhan.
In addition, Yo 8000 was well connected for the tour conductor.
The actual vehicle was dismantled in March 2020 after the operation was terminated with the transformer transportation carried out in November 2019.
The product reproduces the appearance of using "B2 beam", "B2 beam only (forwarding state)", "B2 beam + C beam (empty vehicle forwarding state)",
It is possible to reproduce the operation of 3 patterns of "B2 beam + C beam + transformer (loaded state)".

※Precautions
Target age 15 years and over

Nippon Express Co., Ltd. Commercialization licensed
Cooperation: Toko Takadake Co., Ltd.
Add to Like via app
Shipping method / fee

Payment method