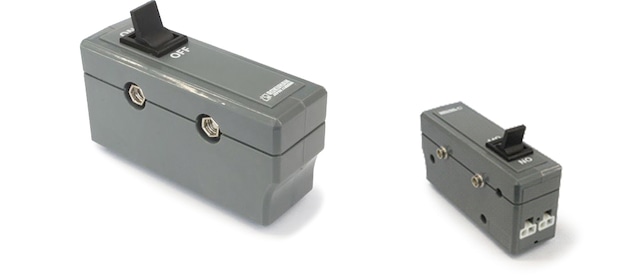 C004 アクセサリースイッチ (SWITCH FOR ACCESSORIES)
【セット内容】
アクセサリースイッチ×1個

【サイズ】
PKGサイズ、寸法 (高さ×奥行×横幅)11×4×10(cm)
本体サイズ、寸法 (高さ×奥行×横幅)6×9.5×3(cm)
素材 ABS、PCB基板

【特徴】
ロクハンZゲージの特徴
眺めて、集めて、そして走りも楽しむことのできる極小スケールの鉄道模型、それがロクハンZゲージです。
1/220サイズならではの精密さや、小ささを活かしA4サイズでもレイアウトを楽しめるのがZゲージ最大の特徴です。
車両はもちろん、レール、ストラクチャー,アクセサリー等も豊富にラインアップ!!

【商品の特徴や使い方等】
アクセサリースイッチはロクハン製建物用LED各種(別売)を点灯させる為のスイッチです。
LEDとの間にA016 アクセサリーターミナル(別売)が挟まります。
電源供給はRC-02及びRC-03 トレインコントローラー(それぞれ別売)との接続により行われます。

※注意事項
対象年齢15歳以上

------------------------------------
【Set Content】
Switch for accessories x 1

【Size】
PKG size: Dimension (height x depth x width) 11 x 4 x 10 (cm)
Body size: Dimension (height x depth x width) 6 x 9.5 x 3 (cm)
Materials: ABS, PCB board

【Features】
The Rokuhan Z Gauge is a small-scale model railroad that you can view, collect, and enjoy running.
The most significant feature of the Z gauge is that you can enjoy the layout even in A4 size by taking advantage of the precision and small size unique to 1/220.
We have a rich lineup of tracks, structures, accessories, and cars(trains) !!

【Product features and usage, etc.】
The accessory switch is a switch for lighting various LED buildings (sold separately) made by Rokuhan.
The A016 accessory terminal (sold separately) gets stuck between the LED and the LED.
Power is supplied by connecting to the RC-02 and RC-03 train controllers (each sold separately).

※Precautions
Target age 15 years and over.
Add to Like via app
Shipping method / fee

Payment method