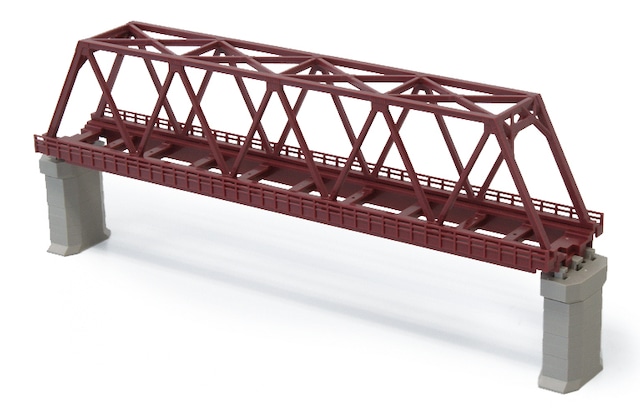 R042 単線トラス鉄橋(赤) (Iron Bridge Single (Red) 220mm x 1 pc)
【セット内容】
単線トラス鉄橋(赤)×1本/レール固定用ビス×6本

【サイズ】
PKGサイズ、寸法 (高さ×奥行×横幅)33.5×5.5×8(cm)
本体サイズ、寸法 (高さ×奥行×横幅)22×5×4(cm)
素材 ABS

【特徴】
ロクハンZゲージの特徴
眺めて、集めて、そして走りも楽しむことのできる極小スケールの鉄道模型、それがロクハンZゲージです。
1/220サイズならではの精密さや、小ささを活かしA4サイズでもレイアウトを楽しめるのがZゲージ最大の特徴です。
車両はもちろん、レール、ストラクチャー,アクセサリー等も豊富にラインアップ!!

【商品の特徴や使い方等】
長さ220mmの単線トラス鉄橋です。R045「道床なし直線レール 110mm(2本入)」(別売)及びS018「橋脚セット」(別売)と組み合わせて使用します。

※注意事項
対象年齢15歳以上

------------------------------------
【Set Contents】
Iron bridge single (red) 220mm x 1 / Track fixing screw x 6

【Size】
PKG size: Dimension (height x depth x width) 33.5 x 5.5 x 8 (cm)
Body size: Dimension (height x depth x width) 22 x 5 x 4 (cm)
Material: ABS

【Features】
The Rokuhan Z Gauge is a small-scale model railroad that you can view, collect, and enjoy running.
The most significant feature of the Z gauge is that you can enjoy the layout even in A4 size by taking advantage of the precision and small size unique to 1/220.
We have a rich lineup of tracks, structures, accessories, and cars(trains) !!

【Product features and usage, etc.】
A single iron bridge with a length of 220 mm can use in combination with R045 "Straight track without trackbed 110mm (2 pieces)" (sold separately) and S018 "Pier set" (sold separately).

※Precautions
Target age 15 years and over.
Add to Like via app
Shipping method / fee

Payment method