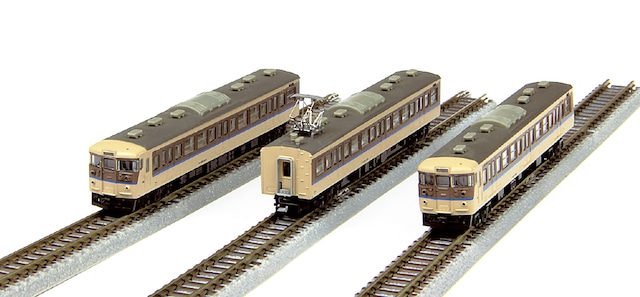 T011-10 115系1000番代 岡山更新色 3両セット (115 1000 OKAYAMA Renewed design 3Cars Set)
【セット内容】
115系1000番代 岡山更新色 3両セット×1セット/ランナーパーツ(列車無線アンテナ…1個、信号炎管A…2個、信号炎管B…2個)×2/貫通幌×2/共通列車種別シール×1

【サイズ】
PKGサイズ、寸法 (高さ×奥行×横幅)25.5×2.8×17.9(cm)
本体サイズ、寸法 (高さ×奥行×横幅)2×30×1.3(cm)※全車両連結時
素材 ABS、POM、亜鉛合金、黄銅、他

【特徴】
ロクハンZゲージの特徴
眺めて、集めて、そして走りも楽しむことのできる極小スケールの鉄道模型、それがロクハンZゲージです。
1/220サイズならではの精密さや、小ささを活かしA4サイズでもレイアウトを楽しめるのがZゲージ最大の特徴です。
車両はもちろん、レール、ストラクチャー,アクセサリー等も豊富にラインアップ!!

【商品の特徴や使い方等】
115系1000番代は、70系や80系といった旧型電車の置き換え用として、115系300番代を基本として、耐寒耐雪装備を強化した仕様として登場しました。
115系岡山更新色は岡山電車区に所属していた塗装で、「カフェオレ色」とも呼ばれていました。
※注意事項
対象年齢15歳以上

JR西日本商品化許諾済

※本製品は金型流用の為、屋根上ベンチレーターや固定窓の表現が実車と異なります。

------------------------------------
【Set Contents】
115 1000 generation Okayama renewed design 3cars set x 1 set / runner parts (train radio antenna ... 1 piece, signal flame tube A ... 2 pieces, signal flame tube B ... 2 pieces) x 2 / penetrating hood x 2 / common Train type sticker x 1

【Size】
PKG size: Dimension (height x depth x width) 25.5 x 2.8 x 17.9 (cm)
Body size: Dimension (height x depth x width) 2 x 30 x 1.3 (cm) * When all cars are connected
Material ABS, POM, zinc alloy, brass, etc.

【Features】
The Rokuhan Z Gauge is a small-scale model railroad that you can view, collect, and enjoy running.
The most significant feature of the Z gauge is that you can enjoy the layout even in A4 size by taking advantage of the precision and small size unique to 1/220.
We have a rich lineup of tracks, structures, accessories, and cars(trains) !!

【Product features and usage, etc.】
The 115 series 1000 series was introduced as a replacement for old trains, such as the 70 series and 80 series, based on the 115 series 300 series, with enhanced cold and snow-resistant equipment.
The 115 series Okayama renewal color was the paint that belonged to the Okayama train ward and was also called "cafe au lait color."

※Precautions
Target age 15 years and over.

JR West commercialization licensed.

* Since this product uses molds, the expression of the ventilator on the roof and fixed windows is different from the actual car.
Add to Like via app
Shipping method / fee

Payment method