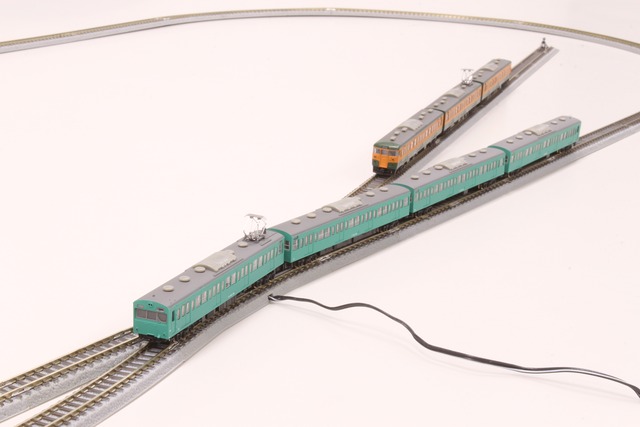 R080 クラシックトラック レールセットF 留置線セット(CLASSIC TRACK Rail Set F (Switchyard Set))
【セット内容】
直線レール55mm×2/110mm×2/220mm×7/53.6mm×2(左分岐用 カット済)/
曲線レールR220-45°×8/R490-13°×1/ダブルスリップポイントレール×1/
エンドレール(日本式)×2非選択式ビス×6本(内2本は予備) 
レールセットF取扱説明書×1枚/ダブルスリップポイントレール取扱説明書×1枚

【サイズ】
PKGサイズ、寸法 (高さ×奥行×横幅)28.5×4.5×33(cm)
本体サイズ、寸法 (高さ×奥行×横幅)1×48.5×115.5(cm)※セットを組み立てた時の寸法です。
素材 ABS、洋白、ステンレス

【特徴】
ロクハンZゲージの特徴
眺めて、集めて、そして走りも楽しむことのできる極小スケールの鉄道模型、それがロクハンZゲージです。
1/220サイズならではの精密さや、小ささを活かしA4サイズでもレイアウトを楽しめるのがZゲージ最大の特徴です。
車両はもちろん、レール、ストラクチャー,アクセサリー等も豊富にラインアップ!!

【商品の特徴や使い方等】
クラシックトラック レールセットF 留置線セットは留置線のあるレイアウトを作る為に必要なレールがひとまとめになったセットです。
ロクハンのレールセットシリーズ第6弾!ダブルスリップポイントレールを使用し、オーバルの内外に留置線を設けました。
オーバルセットの曲線はR220、別売りのレールセットAや単品レールを御用意いただくことで、更に多くなレイアウト、より大きな車両基地などを再現していくことも可能です。
本製品は、初めてダブルスリップポイントレールを同梱したレールセットとなり、列車が本線から分岐したり、本線を跨いでいく情景を楽しめるセットとなります。
車両やコントローラーは別途お買い求めください。

※注意事項
対象年齢15歳以上

------------------------------------
【Set Contents】
Straight track 55mm x 2/110mm x 2/220mm x 7 / 53.6mm x 2 (cut for left branch) /
Curved track R220-45 ° x 8 / R490-13 ° x 1 / Double slip point track x 1 /
End track (Japanese style) x 2 Non-selective screws x 6 (2 of them are spares)
Instruction manual (Track set F) x 1 / Instruction manual (Double slip point track ) x 1

【Size】
PKG size: Dimension (height x depth x width) 28.5 x 4.5 x 33 (cm)
Body size: Dimension (height x depth x width) 1 x 48.5 x 115.5 (cm) * When the set is assembled.
Materials: ABS, nickel silver, stainless steel.

【Features】
The Rokuhan Z Gauge is a small-scale model railroad that you can view, collect, and enjoy running.
The most significant feature of the Z gauge is that you can enjoy the layout even in A4 size by taking advantage of the precision and small size unique to 1/220.
We have a rich lineup of tracks, structures, accessories, and cars(trains) !!

【Product features and usage, etc.】
Classic Track Set F (Switchyard track Set) is a set of tracks required to create a layout with sidetracks.
The sixth in the Rokuhan track set series! A double slip point track is used, and detention lines are provided inside and outside the oval.
The curve of the oval set is R220, and by preparing the separately sold track set A or single track, it is possible to reproduce even more layouts and larger depots.
This product is the first track set that includes a double slip point track, and you can enjoy the scene where the train branches off from the main line or straddles the main line.
Please purchase the cars and controller separately.

※Precautions
Target age 15 years and over.
Add to Like via app
Shipping method / fee

Payment method