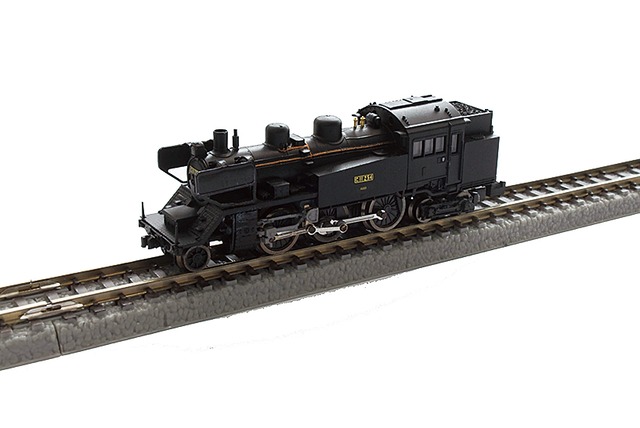 T019-6 国鉄 C11 蒸気機関車 254号機タイプ(門鉄デフ) (JNR C11 Steam Locomotive Number 254 Type (Montetsu Smoke Deflectors))
【セット内容】
国鉄 C11 蒸気機関車 254号機タイプ(門鉄デフ)×1両/先台車パーツ×1

【サイズ】
PKGサイズ、寸法 (高さ×奥行×横幅)5×2.5×18.3(cm)
本体サイズ、寸法 (高さ×奥行×横幅)1.8×6.3×1.3(cm)
素材 ABS、POM、亜鉛合金、黄銅、他

【特徴】
ロクハンZゲージの特徴
眺めて、集めて、そして走りも楽しむことのできる極小スケールの鉄道模型、それがロクハンZゲージです。
1/220サイズならではの精密さや、小ささを活かしA4サイズでもレイアウトを楽しめるのがZゲージ最大の特徴です。
車両はもちろん、レール、ストラクチャー,アクセサリー等も豊富にラインアップ!!

【商品の特徴や使い方等】
国鉄 C11 蒸気機関車は都市近郊からローカル線まで、あらゆる短距離区間で活躍した蒸気機関車です。
製品は九州地方で活躍した蒸気機関車に特徴的な「門鉄デフ」と呼ばれる除煙板を左右に装備しています。最小走行半径はR95と大変コンパクトです。

※注意事項
対象年齢15歳以上

------------------------------------
【Set Contents】
JNR C11 steam locomotive No. 254 type (Montetsu smoke deflectors) x 1 car / leading wheel parts x 1

【Size】
PKG size: Dimension (height x depth x width) 5 x 2.5 x 18.3 (cm)
Body size: Dimension (height x depth x width) 1.8 x 6.3 x 1.3 (cm)
Materials: ABS, POM, zinc alloy, brass, etc.

【Features】
The Rokuhan Z Gauge is a small-scale model railroad that you can view, collect, and enjoy running.
The most significant feature of the Z gauge is that you can enjoy the layout even in A4 size by taking advantage of the precision and small size unique to 1/220.
We have a rich lineup of tracks, structures, accessories, etc., and cars(trains) !!

【Product features and usage, etc.】
JNR C11 steam locomotive is a steam locomotive that has been active in all short-distance sections from the suburbs of cities to local lines.
The product is equipped with smoke-removing plates called "Montetsu differential" on the left and right, which are characteristic of steam locomotives active in the Kyushu region. The minimum mileage is R95, which is very compact.

※Precautions
Target age 15 years and over.
Add to Like via app
Shipping method / fee

Payment method