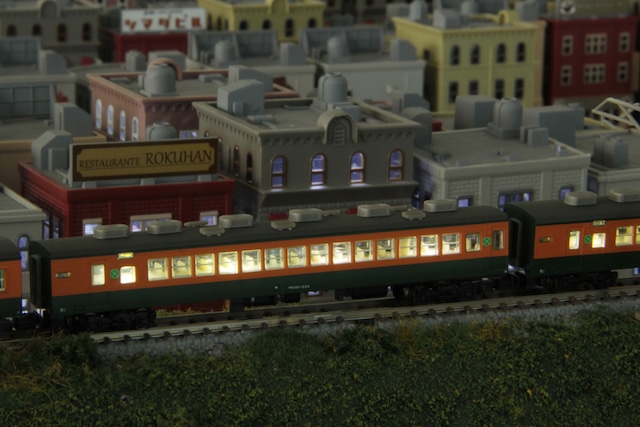 T001-2 国鉄113系 2000番代 湘南色 5両増結セット (JNR 113-2000 Shonan Color 5Cars Extension Set)
【セット内容】
国鉄113系 2000番代 湘南色 5両増結セット×1セット/ラベル×1

【サイズ】
PKGサイズ、寸法 (高さ×奥行×横幅)25.5×2.8×17.9(cm)
本体サイズ、寸法 (高さ×奥行×横幅)2.1×46.5×1.3(cm)※全車両連結時。
素材 ABS、POM、亜鉛合金、黄銅、他

【特徴】
ロクハンZゲージの特徴
眺めて、集めて、そして走りも楽しむことのできる極小スケールの鉄道模型、それがロクハンZゲージです。
1/220サイズならではの精密さや、小ささを活かしA4サイズでもレイアウトを楽しめるのがZゲージ最大の特徴です。
車両はもちろん、レール、ストラクチャー,アクセサリー等も豊富にラインアップ!!

【商品の特徴や使い方等】
113系2000番代 湘南色は、115系等でも採用されている、黄かん色と緑2号のツートンカラーをまとった仕様です。
4両基本セット・2両増結セット(それぞれ別売)と組み合わせてフル編成にすることが可能です。最小走行半径はR95と大変コンパクトです。
※注意事項
対象年齢15歳以上

JR東日本商品化許諾済

------------------------------------
【Set Contents】
JNR 113 2000 Shonan color 5cars extension set x 1 set / label x 1

【Size】
PKG size: Dimension (height x depth x width) 25.5 x 2.8 x 17.9 (cm)
Body size: Dimension (height x depth x width) 2.1 x 46.5 x 1.3 (cm) * When all cars are connected.
Materials: ABS, POM, zinc alloy, brass, etc.

【Features】
The Rokuhan Z Gauge is a small-scale model railroad that you can view, collect, and enjoy running.
The most significant feature of the Z gauge is that you can enjoy the layout even in A4 size by taking advantage of the precision and small size unique to 1/220.
We have a rich lineup of tracks, structures, accessories, and cars(trains) !!

【Product features and usage, etc.】
The 113 series 2000 series Shonan color is a specification that wears the two-tone paint of yellowish orange and green No. 2, used in the 115 series.
It is possible to make an entire formation by combining a 4cars basic set and a 2cars extension set (each sold separately). The minimum mileage is R95, which is very compact.

※Precautions
Target age 15 years and over.

JR East commercialization licensed.
Add to Like via app
Shipping method / fee

Payment method